Interactive Careers Panel – Careers that Give Back!
January 12, 2021 @ 12:00 pm

-

1:00 pm
Learn about Careers in the Nonprofit Sector directly from people who have chosen this impactful career path.
You are invited to an Interactive Careers Panel – Careers that Give Back!
Learn about Careers in the Nonprofit Sector: Did you know there are 20,000 people working in over 6,000 nonprofit organizations all across Nova Scotia in a wide range of roles? Come hear directly from people who have chosen this impactful career path. They will share their stories, what they love about working in this sector and they will respond to your questions.
The sector needs talented undergraduate and graduate students from all disciplines and with a wide of interests and diverse backgrounds. You have valuable skills and knowledge and you can build a career that aligns with your passion and interests.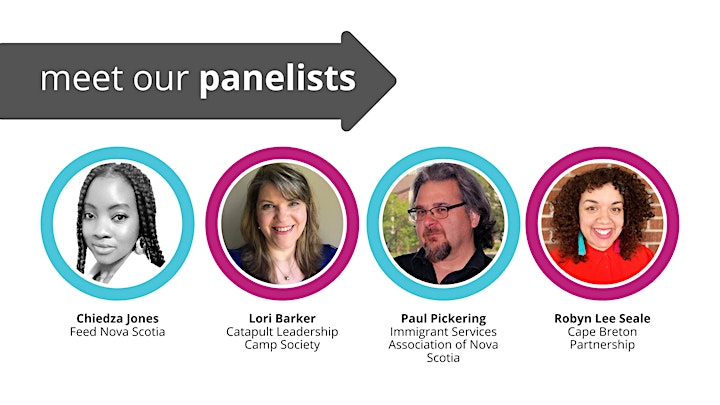 Meet Our Panelists
Chiedza Jones – Feed Nova Scotia
Chiedza Jones has been working in the non-profit sector in Nova Scotia for almost 5 years. She currently works as Knowledge Manager and Analyst at Feed Nova Scotia, a role in which she is responsible for data management, advocacy, and raising awareness about food insecurity in the province. Chiedza is passionate about addressing complex socioeconomic challenges through sustainable development and innovation, as well as amplifying marginalized voices in the conversations and decision-making around these challenges and their solutions.
Lori Barker – Catapult Leadership Camp Society
Lori has been an active volunteer with Catapult Leadership Camp since 2010 and became the Executive Director in the fall of 2013. Her former position was as a corporate event planner and special events including the Blue Nose Marathon, Dress for Success, Phoenix Youth's Dreamscape, Dreams Take Flight and Autism Golf Ball. Lori lives in Fall River, NS and enjoys spending family time with her 3 children.
Paul Pickering – Immigrant Services Association of Nova Scotia (ISANS)
Paul Pickering has been delivering diversity and intercultural-related learning since 1995. He has a BA in Cultural Anthropology and an MA in Communication Studies, both from the University of Maine, and a Diploma in Lifelong Learning from London, England. He immigrated to Canada in 2011.
Robyn Lee Seale – Cape Breton Partnership
Robin Lee Seale coordinates the Cape Breton Partnership's Connector Program, a formalized networking initiative. In her time running the Connector Program, she has met with over 150 business leaders and connected them to as many new graduates and aspiring professionals. Robyn Lee and her team create innovative networking events across the island. In her spare time, she is involved at a local theater where she performs and runs a diversity program.
Learn more about Careers in the Nonprofit Sector by visiting our website at: csc-ns.ca/careers